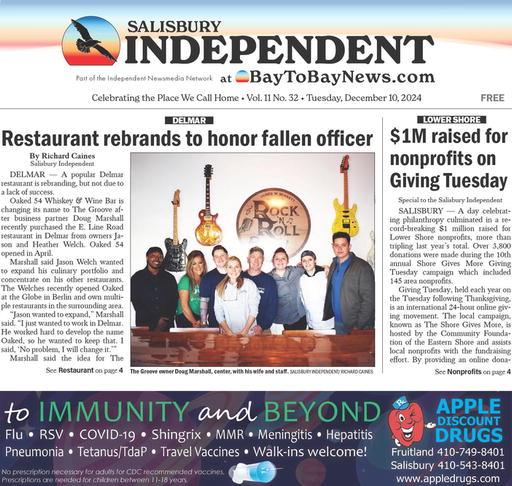 The Salisbury Independent serves the city and the surrounding community of Wicomico County by providing real coverage of the area's schools, churches, civic clubs and organizations.
The newspaper also publishes in-depth reports on local government and seeks unique ways to tell genuine stories about human aspirations and the accomplishments of our readers. The newspaper distributes 20,000 copies for free every Thursday, using a combination of direct mail, home-delivery and highly visible newsstands. This unique approach to circulation reaches seven out 10 households in Salisbury's two main zip codes.
The promising economic potential in Wicomico County and Salisbury, the core city and county seat, rests on double-digit population growth in the last decade, low taxes and growing industries for poultry and health care. The Salisbury Independent employs an expert sales and marketing team that takes pride in our multi-media offerings and our fair, affordable advertising rates. In today's business climate, return on your marketing investment is of the utmost importance and our experienced team is trained to help you reach your target market.
Advertising
Classified Advertising: FREE online classifieds. No limit on the number of ads. Up to 400 words and four photos free. Many options to upgrade your ad or publish in print. You can submit your ad online or send email to our classified team for more information.
Display advertising: Send email to our sales team or our billing team, or view our online media kit for information about the Salisbury Independent and other Independent Newsmedia Inc. publications in the Delmarva area